The Marriage Helper Workshop is a 3-day workshop to give understanding, facilitate forgiveness, and move forward with peace no matter what happens in your marriage.
Call 615.472.1161 to Learn More
Or Fill Out the Form Below and Someone Will Be In Touch Shortly
Are You Done with Your Marriage?
I don't know what has happened in your marriage...
...but whatever it is, I understand that you are not sure that you want to stay.
And I understand how you feel.
At Marriage Helper, our goal is to help people save their marriages and make things work.
However, we intimately understand the mindset of a person who wants out of the marriage.
We get it. We've been there, too.
You are tired of being stuck in a hopeless, angry, tiring situation.
And you shouldn't have to be stuck in a marriage like that.
Sometimes it seems like the better choice to just end and start over with something that seems to be easier, better, and happier.
Yet, ending any type of relationship isn't EASY.
We want to help you make sure that you are making the best decision, and how to move forward with peace no matter what happens.

What If You Were Able to Have a Better Future...
...no matter what happens in your marriage?
What went wrong in your marriage

How to have peace moving forward

How to forgive and communicate better

Know the next appropriate step to take

Gain closure and understanding
Be able to co-parent better with your spouse (no matter what happens)
Have healthier relationships in every area of your life
Do You Want Your Future to Look Like Your Past?
Probably not. The past has probably been nothing like what you hoped it would be...
But you have to know what happened, how to fix it, and how to do things differently.
And we would like to help you find peace and have a better future.

What Happens at the Workshop?
First, let me say this:
The workshop is NOT an environment where we will twist your arm to do something you don't want to do. We don't sit around and talk about feelings. In fact, we don't talk much about the past at all...
At the workshop, you don't have to share ANYTHING that you don't want to.
Here are 3 guarantees that I can make for you:
1. We will not judge you. No matter what has happened in your past or what you choose to do in your future, we are not here to judge you. We understand the hurdles and experiences that people go through in their marriage, and we simply want to help you understand. And to realize that, no matter what, you aren't alone.
Even the people who lead our workshops have been the ones who have wanted out of their marriages. So, really, we understand.
2. We won't twist your arm to do anything you don't want to do. At this workshop, we respect every person there. We will never try to twist your arm to do anything, because we respect you.
3. We will not preach at you. In fact, we don't use religion as a reason to stay in a marriage or leave a marriage. We don't hide the fact that most of the people on the Marriage Helper team are Christians, but we do not approach the material in our workshop from a religious standpoint.
The Marriage Helper Workshop is a blend of tried and true scientific research as well as the best techniques that have actually been implemented into the lives of thousands.
In just 3 days, you will learn and be equipped with tools that actually work in overcoming your past for a better future. These tools have been fine-tuned over 20 years through working with real relationships in real crisis and desperate situations along with using the best research on what makes a strong relationship.
Instead of spending months in counseling or even weeks scouring the internet, reading books, or seeking advice from people who are not trained, you can spend 3 days learning these implementable tools that will completely change your future.
At the workshop, we make it a safe place for everyone. We focus on the future. We teach about how you can identify what happened in the past and move on.

What Does The Workshop Cover?
As you can imagine, a lot is covered during the 24 hours you are at the workshop. Here are some brief highlights of what is covered in the workshop:
How People Fall in Love: Our 4-step process called "The LovePath" will teach you how people fall in love and how people fall out of love. We teach you how you can use this to rescue your marriage, even if only one person follows it. If an affair has affected your marriage, a powerful section covers how affairs happen and how they will end, as told by people who have experienced affairs personally.
Help You Find Peace: Some people who attend the workshop are trying to decide whether or not they want to save their marriage. During the workshop, you will learn the things you need to know so that you can have peace about whatever decision you make moving forward in your marriage.


Tools to Stop Conflict with Your Spouse (if nothing else, helps you coparent better): You will receive an in-depth assessment that will give you the road map you need to transform the way that you and your spouse communicate. Instead, you will actually learn how to resolve conflict so that both of you can win the argument!


Leave with New Hope and New Plan for Going Forward: At the end of the workshop, you will have a game plan for how to move forward with your marriage. You will understand more about yourself, and you will have a new hope for the future.



How to move past anger

How to understand personality differences

How to be a safe place (for your spouse, your kids, or any relationship in your life)

How to compromise so that you and your spouse both get what you want

How to become the most attractive you can be

How to forgive and move past hurts in life

Regain self-esteem

Understand why certain things have happened in your life and how to stop them from happening again

How to have more confidence

Knowing that you have done everything that you can before making a major decision
Why should you attend the workshop if you don't want to stay in your marriage?
Here's what some of the people who have attended the workshop have said:
"I have to realize that I am not the problem, I have a problem. I just need to know what it is so I can move on."
"I'm at my wits end. I can't do another 10 years like this. I'm lost and anger and pain, and I want to get past that."
"Understanding what makes me happy is a hard thing. I don't know who I am anymore...I need to find out who I am for me."
"I'm not sure I want to stay in my marriage. I don't know how to be happy in this relationship...or any relationship."
"I can't even describe what a happy, fulfilling relationship would look like because I can't describe something that I don't know anything about."
We don't talk about surface-level, feel good stuff. That doesn't help. We get down in the weeds with real-life situations, addressing principles that people identify with, whether they want to save the marriage or not.
We help people understand what has happened and how to have a better future.
This isn't a marriage workshop.
This is a LIFE changing workshop.
No matter what happens going forward.
Here's What People Say About The Workshop: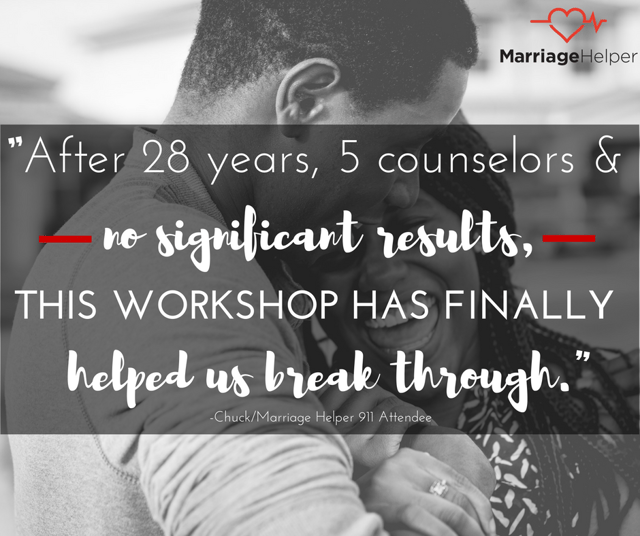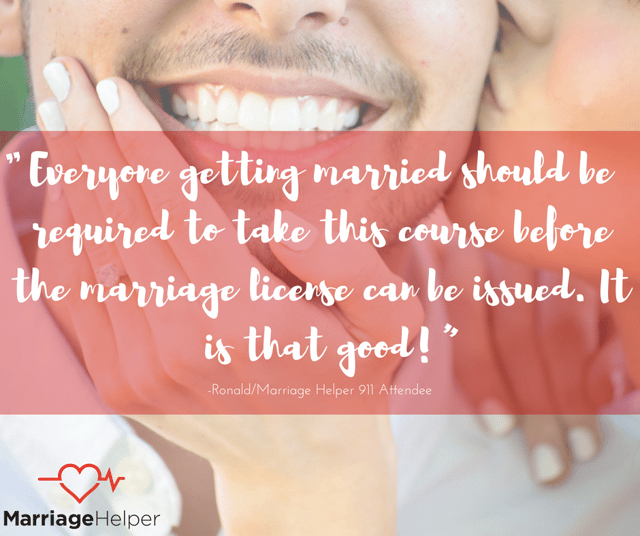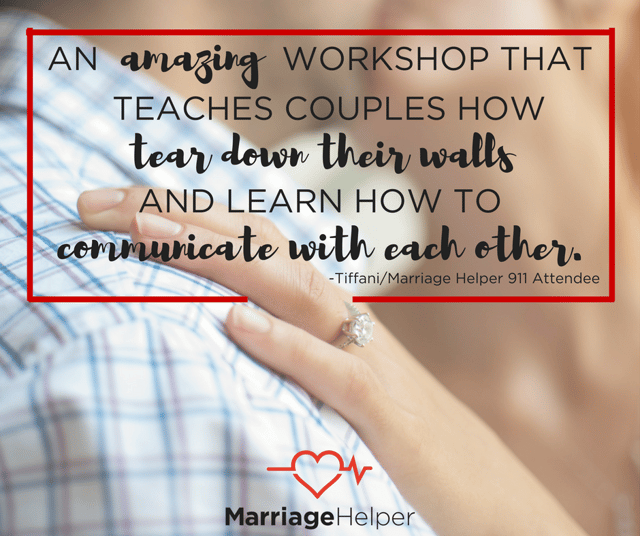 Here's What the Other 23% Say:
"My wife and I ended up being one of the 23% whose marriage could not be saved as she decided to stay involved in her affair. However, I did become a big fan of the class and have sent 3 couples there over the years. I appreciate the work that you are doing!"
"I cannot tell you how helpful the seminar was. My ex is now remarried, and I've moved on with my life as well. Thanks to the seminar, we have forgiven one another and maintain a good relationship for the children. Thank you so much for all that you do."
"Marriage Helper is such a valuable tool. My marriage didn't work out and that's ok. My marriage not working had nothing to do with the marriage workshop. I have continued to use the information I learned at the workshop to this day. It was a very useful workshop, and I still recommend it to everyone I know."
Watch this Raw, Unedited Video of Tara and Coy's Experience at the Workshop
Worried that you will be the only person there who doesn't want the marriage to work?
It is not uncommon to have one spouse who does not want to attend the workshop.
90% of the couples that attend our workshop have one spouse who wants out of the marriage.
You will fit right in.
We understand that sometimes marriages don't work out...
99% of the people who attend the workshop still say it is one of the best things they ever did...
...whether they choose to work on their marriage or not.
We respect everyone, and we respect everyone's decision to stay married or not.
We don't hide the fact that we want marriages to be saved...
However, our workshop teaches how to have healthy relationships. It is VITAL for finding peace, having healthy relationships in the future, and co-parenting, as well as having a healthy relationship with your children - especially if a divorce occurs.
Want to talk to us about it? Call us at 615.472.1161.

We Would Love To Meet You At the Marriage Helper Workshop. Contact Us Today.
All workshops are held monthly in Nashville, TN.
We begin the workshop at 8 am on Friday morning. There will be an hour and a half break for lunch. We plan to end for the day around 6:30 pm. We recommend going out and enjoying the town of Nashville during the evenings!
Contact our Customer Relations Advisors to register at 615.472.1161 or by filling out the form.
On Saturday, the workshop begins at 8:00 am and ends around 6:30 pm. We break for an hour and a half for lunch.
On Sunday the workshop will begin at 1: 00 PM and end around 6:30 pm.
Frequently Asked Questions
Why Should I Trust You?
Great question. We know that you've probably been hurt by others in the past who promise to save your marriage, only to find information that doesn't work or drives your spouse further away.
I understand that your hesitant. I hope you understand our heart. At Marriage Helper, we seek to save marriages and strengthen families by teaching principles that you can apply to your specific situation.
Every marriage is different. Therefore, there's no 3-step plan that is going to work for every single marriage.
We understand this. That's why we have the Marriage Helper 911 Workshop. It teaches you principles that will work for every situation. Then, when it gets to the nitty-gritty specifics of your situation, we aren't going to leave you hanging. We will do our best to help you navigate the specifics of your situation as well.
We've been helping marriages for 20 years. We'd love to help yours, too.
Where are the workshops located?
The Marriage Helper workshops are held all over America. Click here for the list of dates and locations.
But wait, before you say, "Oh, I live in _______. I can't get to the workshop." Consider this:
If you truly and honestly believed that something would save your marriage, and you are willing to do anything it takes to save your marriage, then couldn't you find a way to drive or fly?
Every month, we have people come to our workshops from places like Canada, California, Oregon, Washington State, Illinois, Montana, even far off places like South Dakota! And yes, we have had couples fly all the way from Guam, Germany, China, and Hawaii.
Do you offer discounts?
We do! We have an Early Bird Discount available, as well as payment plan options. We will work with you however we can to make sure you can attend.
Fill out the contact us form for a representative to call you with more information.
Where are the workshops?
All of our workshops are held in our headquarters city of Nashville, Tennessee.
Are meals and lodging included?
Participants are invited to find their own lodging that is most suitable to their needs. We also have negotiated discounted rates at hotels near the workshop location. We also encourage couples to eat all of their meals together as a time to discuss what they have learned and discovered during the workshop.
I can't get to the workshop. There is just no way.
Don't give up! We still have an option for you. You can begin with our online Save My Marriage program. For more information, click here.
We are already divorced. Can this workshop help?
Absolutely. Almost every month, we have at least one couple that is already divorced come to the workshop. In fact, we have had couples come that have been divorced for as long as 10 years! We have experienced many couples remarry from attending the workshop.
There hasn't been an affair, we are just extremely unhappy. Is this workshop for us?
Absolutely. This workshop is for many, many different marriage issues, not just affairs. We will address all the ways to rebuild your relationship and fall in love all over again. We will also teach you how to prevent your marriage from ever being affected by an affair.
My spouse had an affair and is still in love with the other person. Is this workshop for me?
YES! This is the most common problem we see at our workshop, and we have a lot of successful experience in working with these situations. Many people on our staff experienced the same thing in their marriage, and their testimonies will be extremely helpful.
I don't know that I can afford the workshop.
Then you probably can't afford a divorce, either. The difference is that, unlike an attorney, we want to help you save your marriage, and we won't let money stand in the way of that.
Fill out the contact us form, and we will contact you and discuss with you many different options to pay for or finance the workshop.
You can also get creative! Many of our clients ask for the assistance of family members, friends, their church, and even their employers. We have also had people sell cars, motorcycles and boats. Cut out going out to eat and the cable bill…there's many different options (including setting up a payment plan).
Are the workshops Christian based?
Everyone on staff at Marriage Helper holds a Christian faith. Our workshops are based on Christian principles, but we work with couples from all religions and walks of life. Everyone is respected.
How do I know if this workshop is for me?
Do you feel that you are at your wits end? That you are lost in the anger and pain and want to get past it? If you answered yes to this question, the workshop is for you.
What is the difference between you and another similar 3-day program?
We invite you to do whichever marriage program you think will work best for you, but we strongly encourage you to not base your decision off of price or location. The old saying is true: you get what you pay for. We have worked with thousands of people and have experienced amazing success rates with our couples. We would love to work with you, too.
Can Marriage Helper help me?
At Marriage Helper, we have helped marriages in the most hopeless of situations that everyone else has given up on. As we like to say, there's nothing that we haven't heard or seen. And we have STILL seen marriages saved!
At Marriage Helper, we believe that everyone deserves respect and care, no matter what has happened or what is going on in their marriage.
Where do my funds go?
At Marriage Helper, we never turn anyone away because of finances. To help us cover the cost to care for couples who could not afford marriage help otherwise, we put funds we receive from online courses and products towards our Marriage Helper Scholaship Fund for Families.
This scholarship funds helps us to help more couples and repair more families who could not have otherwise afforded it.